The Top 10 Largest Shopping Malls in Singapore
by SingMalls Editor on Sep 19
Singapore, a dynamic city-state known for its striking skyline, is also home to majestic shopping malls that cater to all tastes and preferences. In this article, we venture through the ten largest malls based on their total lettable area in square meters, unveiling the grandeur they encompass.
Let us countdown the top 10 largest shopping malls in the city state. There are many metrics that can be utilised for this measurement but the metric here we employ is net lettable area - the total floor available to be rented out to retail tenants, excluding those common areas and spaces designated for walking, services and maintenance.
Lettable area: 27,000 sqm

313@somerset, situated prominently on Orchard Road in Somerset, Singapore, is a paragon of contemporary shopping mall design that spans a staggering eight levels, encompassing over 27,000 sqm in net lettable area (NLA).
Dedicated to the young and stylish, the mall stands as a beacon of mid-level fashion, hosting an impressive roster of global and local brands including Zara, Uniqlo, Forever 21, and MUJI. Its diverse range extends to lifestyle retailers like Royal Sporting House and an inviting thematic "Discovery Walk" outdoor dining precinct, home to establishments like Brotzeit German Bier Bar, Marché® Restaurant, and JiBiru Japanese Craft Beer Bar, among others.
Architecturally, 313@somerset is a visual marvel, boasting a 95-meter Orchard Road frontage and an additional 70 meters along Somerset Road. The mall's facade is a mesmerizing interplay of light and design, with over 1,500 LED washlights set in custom white light boxes, intricately merged into the fritted glass cladding system.
These LEDs, when illuminated, create a dynamic display of video animations and lighting effects, adding to the mall's distinctive ambiance. Moreover, its strategic location, providing direct access to the Somerset MRT Station and situated amidst busy pedestrian routes, accentuates its position as a central shopping and lifestyle destination in the heart of Singapore's premier shopping district.
Lettable area: 32,000 sqm
PLQ Mall, located at the heart of the emerging retail hub in Paya Lebar, epitomizes the fusion of modern architectural excellence and convenience. Sprawling over a vast area, PLQ Mall boasts more than 200 diverse stores, complemented by amenities such as a state-of-the-art IMAX theatre and a gym. This modern edifice stands distinctively amidst the Paya Lebar Quarter precinct, which comprises three world-class office towers and an exclusive 429-unit premier residence.
These elements, collectively, envelop lush green, interconnected spaces, creating an urban oasis in the heart of the city. Moreover, the mall's award-winning sustainable design showcases its commitment to ecological responsibility while simultaneously offering a rich blend of high street fashion stores and an array of culinary delights.
The strategic positioning and impeccable design of PLQ Mall underscore its stature as the new social epicenter of the east. The mall's seamless integration with the Paya Lebar MRT station ensures effortless accessibility, drawing both locals and visitors alike.
Celebrations marking its grand opening took place on October 24, 2019, setting in motion a new chapter of retail and entertainment in the region. This landmark development, alongside the nearby Paya Lebar Square, adds to the vibrant mix of dining and shopping experiences in the area, juxtaposed beautifully with historical traces of Singapore in the neighboring Geylang Serai and Joo Chiat regions.
Lettable area: 35,000
Tampines Mall, prominently positioned in Singapore's eastern region, stands as a testament to adaptive and evolving suburban mall architecture. Completed in 1995 and developed by DBS Land and NTUC FairPrice Co-Operative, the mall has since been a cornerstone for shopping, dining, and entertainment.
Located strategically next to the Tampines Mass Rapid Transit (MRT) station and the Tampines bus interchange, its advantageous location services the densely populated Tampines regional centre and adjacent eastern and north-eastern regions.
Over the years, Tampines Mall has undergone significant transformations. A significant renovation in 2004 saw the introduction of an outdoor playground on the fourth floor and a covered linkway to the adjacent Century Square, enriching its architectural dynamism and enhancing connectivity.
Furthermore, the revamp fostered a new eclectic mix of shops and restaurants, improved atrium spaces, and the strategic introduction of travellators for ease of navigation.
Subsequent to its first major refurbishment, 2014 marked another pivotal change in the mall's design and functionality. The renovation not only gave a fresh face to the mall's facade but also reimagined its roof level, transforming it into an education hub.
This adaptive reuse showcased Tampines Mall's commitment to meeting the evolving needs of its community. Alongside this, significant segments of the mall, including the food court, cinema, and Basement 1 shops, received contemporary makeovers.
As one of Singapore's premier suburban malls, Tampines Mall, with its continuous efforts to adapt and innovate, has catered to an annual shopper traffic of an impressive 26.7 million, predominantly serving the middle-income and family-oriented demographic in the eastern region of Singapore.
Lettable area: 59,000 sqm
NEX, situated in the heart of Serangoon, stands as a marvel of contemporary design and architecture, merging urban aesthetics with ecological sustainability. The mall, which covers an expansive 80,000 sqm, cleverly utilizes the 'green necklace' concept to amalgamate a series of lush, landscaped public spaces including the Sunken Plaza, Urban Walk, Sky Terrace, and others, which not only breathe life into its massive structure but also weave an ecological tapestry both within its interiors and across its facade.
This thoughtfully conceived green linkage brings cohesion to the vast retail landscape while adding distinctive features to every shopping floor. Externally, the mall's facade mirrors a harmonious blend of retail functionality and artistic form, a testament to the keen understanding of the client's business needs married with architectural prowess.
Moreover, NEX isn't just an architectural feat, but it also plays a pivotal role in the urban landscape of Serangoon Central, a dense residential area. Given its location above the Serangoon MRT Interchange and the new Serangoon bus interchange, its impact is undeniable, serving a vast working and visitor population.
Recognizing the region's lack of greenery, the mall introduces substantial landscaped spaces, offering a refreshing respite for shoppers and serving as the region's green lung. With nearly a million square feet of area, the mall could have easily appeared overwhelmingly massive, but the 'green necklace' elegantly breaks down its urban scale, giving it both an inviting and unified appeal.
Additionally, its diverse retail and dining lineup, with over 360 premium tenants and brands, reinforces NEX as not just a shopping destination but an integral part of the community's lifestyle fabric.
Lettable area: 61,000 sqm
ION Orchard, prominently located next to the Orchard MRT station in Singapore, is a prominent retail centerpiece of an integrated development initiated by Orchard Turn Developments Pte Ltd, a collaboration between CapitaLand and Sun Hung Kai Properties. Launched into operations on 21 July 2009, this mall presents an unparalleled shopping experience, spanning across eight ingenious levels of shopping space, both above and below ground.
This retail behemoth, which occupies a total of 663,000 square feet of retail space, is a testament to modern architectural brilliance. Designed meticulously by RSP Architects Planners & Engineers Ltd in association with Benoy, the ION Orchard stands as an iconic symbol of retail luxury, housing over 300 premium retail, F&B, and entertainment stores, including prestigious flagship stores of world-renowned brands such as Louis Vuitton, Dior, Dolce & Gabbana, and many more. Its modern, cutting-edge design not only sets it apart on the Orchard Road skyline but also earned it prestigious awards at Mapic 2006 in Cannes, France.
Apart from its colossal size and global brand assortment, ION Orchard's design is distinct and forward-thinking. The mall's façade, known as the Media Facade, is a multisensory canvas media wall, merging the realms of modern art and commercial aesthetics. Further enriching the cultural dimension of shopping, the mall houses the ION Art gallery, a 500 sqm art and exhibition space on its fourth floor, blending art and commerce by showcasing Asian modern and contemporary works.
The development also boasts of the ION Sky, an observation deck perched on the 55th and 56th floors, offering panoramic views of the city from 218 meters above ground. Additionally, the mall incorporates a plethora of media screens both within and outside the mall, managed by JCDecaux, making it a vibrant, dynamic hub at the heart of Singapore's commercial district.
Lettable area: 67,000 sqm
Situated in Jurong West and conveniently adjacent to the Boon Lay MRT station and Boon Lay Bus Interchange, Jurong Point stands as the largest suburban mall in Singapore. Since its inception in December 1995, the mall has seen a steady and expansive growth, housing over 450 shops and sprawling across a massive 70,000 square meters.
This significant area was achieved through two major enlargements; the first in December 2000 when it expanded to 42,000 sqm and the second in December 2008, making it even grander. These expansions not only enhanced its retail space but also introduced diverse retail zones such as the Mongkok, Korean Street, Malaysia Boleh, and the Gourmet Garden, among others.
Jurong Point has become an epitome of retail evolution, continuously reinventing itself to serve the demands of the dynamic Singaporean shopper. It houses anchor giants like the 24-hour FairPrice Xtra, Harvey Norman, Kopitiam, and a bevy of popular brands like Din Tai Fung, Adidas, and Nike.
Its legacy is further solidified by its long-standing relationship with retailers who set up their establishments within its confines and have remained since its early days. The mall's journey, marked by significant expansions, has brought forth amenities like the air-conditioned Boon Lay Bus Interchange and the residential development, The Centris, thereby cementing its place as the go-to shopping and leisure destination for residents in western Singapore.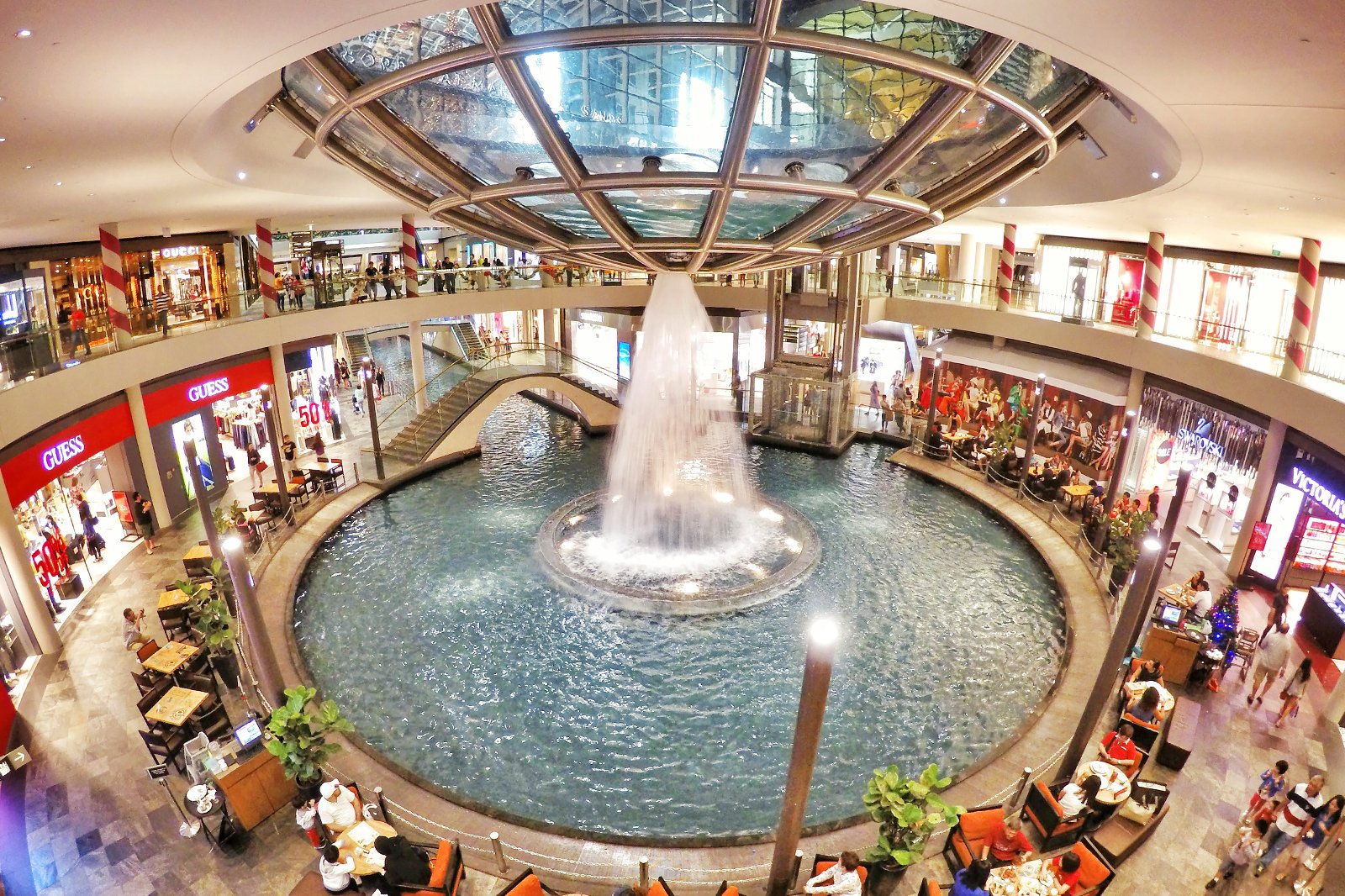 Lettable area: 74,000 sqm
Set against the iconic skyline of Singapore, The Shoppes at Marina Bay Sands emerges as a paragon of luxury shopping and architectural grandeur. Developed as part of the Marina Bay Sands integrated resort, this sprawling mall covers an expansive 800,000 square feet, making it one of the foremost luxury shopping destinations in the Central Business District.
Designed with a contemporary flair, the mall basks in natural sunlight, thanks to its full-glass windows, offering breathtaking vistas of the city. The modern design ethos extends to the mall's attractions, like the 130-meter canal where visitors can indulge in serene boat rides on traditional Asian sampans, and the awe-inspiring Crystal Pavilion that houses the world's largest Louis Vuitton boutique. This floating island store, a marvel in its own right, allows visitors to journey through an underwater tunnel, emerging into a multi-tiered haven of high fashion.
The Shoppes doesn't just stop at luxury retail. It offers a cornucopia of experiences, from dining at celebrity chef restaurants such as Bread Street Kitchen by Gordon Ramsay and Waku Ghin by Tetsuya Wakuda to indulging in entertainment at the Sands Theatre. The uniqueness of the Shoppes is further accentuated by the Louis Vuitton 'island' boutique, the largest outside of Paris, offering an unmatched brand immersion.
Beyond shopping, the mall is a nexus for art and culture, featuring Moshe Safdie's Art Path, which gracefully integrates installations by renowned artists into the architectural narrative. With a seamless blend of luxury, art, and innovation, The Shoppes at Marina Bay Sands is not just a shopping destination, but a testament to architectural vision and the epitome of luxury lifestyle in Southeast Asia.
Lettable area: 84,000 sqm
Suntec City stands as an architectural marvel, weaving together Chinese feng shui principles with contemporary design in the heart of Singapore's Downtown Core. Envisioned by the renowned Tsao & McKown Architects, Suntec City's design is a fascinating study in geomancy, with its five buildings and convention center poised to resemble a left hand when viewed from above.
At the core of this architectural hand lies the Fountain of Wealth, fashioned as a golden ring, symbolizing abundance and prosperity. Crafted from bronze, this fountain's harmonious balance of metal and water is believed to be a beacon of success, further resonating with its Chinese name, 新达, translating to "new achievement."
Diving into its retail landscape, Suntec City Mall, located within the larger Suntec City development, was once hailed as Singapore's most expansive shopping center till 2006. Encompassing an impressive 82,500 square metres of retail space, the mall introduces shoppers to over 360 diverse outlets, systematically distributed across four themed zones to enhance navigation and shopping experience.
These zones, the Elegant Galleria, The Tropics, Fountain Terrace, and the Entertainment Centre, each cater to varied tastes and preferences, from high-end international brands to lifestyle merchandise, food, and entertainment.
A noteworthy feature, The Fountain of Wealth, not only serves as a central attraction but also proudly holds the title of the world's largest fountain, as certified by the Guinness Book of Records. This emblematic structure, resonating with prosperity and success, solidifies Suntec City Mall's position as a premium shopping and cultural destination in Singapore.
Lettable area: 98,500 sq
Great World City, rebranded as Great World, stands as an emblematic mixed-use development, beautifully nestled along the Singapore River in the Central Area of Singapore. This expansive development integrates a 6-storey shopping mall, two 18-storey office towers, and a 35-storey serviced apartment complex, all elegantly built on the historical grounds of the former Great World Amusement Park.
The shopping mall itself is a testament to contemporary architecture and design, seamlessly merging retail, entertainment, and convenience for visitors. Boasting a rich tapestry of international franchises including McDonald's, Starbucks, and Bentendo Pasta and Coffee, along with over 130 specialty stores, the mall serves as a vibrant shopping nexus in Singapore. Historical ties to the site are palpable, with its evolution from an amusement park in bygone days to the dazzling commercial and residential hub of today.
The Great World shopping complex exudes historical significance and architectural finesse. It underwent a transformative renovation in 2018, with the intent of aligning itself with the upcoming Great World MRT station and other neighboring developments. This meticulous refurbishment introduced "dual level retail pods" in one of its atriums, and broader walkways for enhanced accessibility, ensuring an elevated shopping experience for visitors.
Furthermore, the relocation of the Food Junction to Level 3 and the opening of the Japanese supermarket chain Meidi-Ya in Basement 2 manifested its dedication to offering a diverse gastronomic landscape.
Noteworthy is the mall's close proximity to the Great World MRT station, which commenced operations in November 2022, bestowing upon it unparalleled connectivity and accessibility in the heart of Singapore.
Lettable area: 100,500 sqm
VivoCity stands as a remarkable representation of modern architecture and a vibrant lifestyle hub in Singapore, crafted meticulously by the globally renowned architect Toyo Ito. Being the focal point of the HarbourFront Precinct, VivoCity sprawls across a net lettable area of 100,500 square meteers, making it Singapore's most expansive retail and lifestyle destination.
The 'Surfing' theme central to its design celebrates the proximity of the development to the waterfront, encouraging visuals of waves amidst the ocean. This masterpiece is more than just a shopping haven; it incorporates immersive open spaces for relaxation and leisure, including a 300-meter harbour front promenade and a spectacular sky roof with play pools approximately the size of four Olympic swimming pools.
These open spaces, harmoniously blended with retail stores and a broad spectrum of eateries, evoke a multi-experiential venture into retail, relaxation, and amusement. Moreover, the mall has invested over S$1.5 million in commissioning 13 grandiose outdoor art pieces from six international artists, presenting a remarkable blend of art and architecture.
Adding to the visual grandeur, VivoCity also hosts large event spaces like a 20,000 square feet open plaza and an outdoor amphitheatre that not only offer a retreat for relaxation but serve as interactive playgrounds for children, complete with features like a mist garden and animated Vivo Punch characters that can interact with the kids.
Ichaost harmonizes perfectly with the Work, Live, and Play concept of modern urban lifestyle, offering not just a shopping experience but a lifestyle choice.